What is SEO?
SEO refers to the process of enhancing your website so that it will be more visible when people seek information on themes in which you have extensive knowledge and/or experience on Google, Microsoft Bing, and other search engines offering SEO optimization.

The relationship between SEO and content marketing is very much yin and yang. Both the first and second advance the other. Your plan will provide far more impressive outcomes if you use both than if you use just one for SEO services.
Importance of SEO in online content marketing
SEO drives appropriate traffic to nurture content for effective SEO optimization.
SEO and content increase exposure and brand awareness through SEO services.
Together, SEO and content can enhance user experience.
Good SEO content creation raises the rank of your pages with powerful SEO content marketing.
What does SEO Content Strategy mean?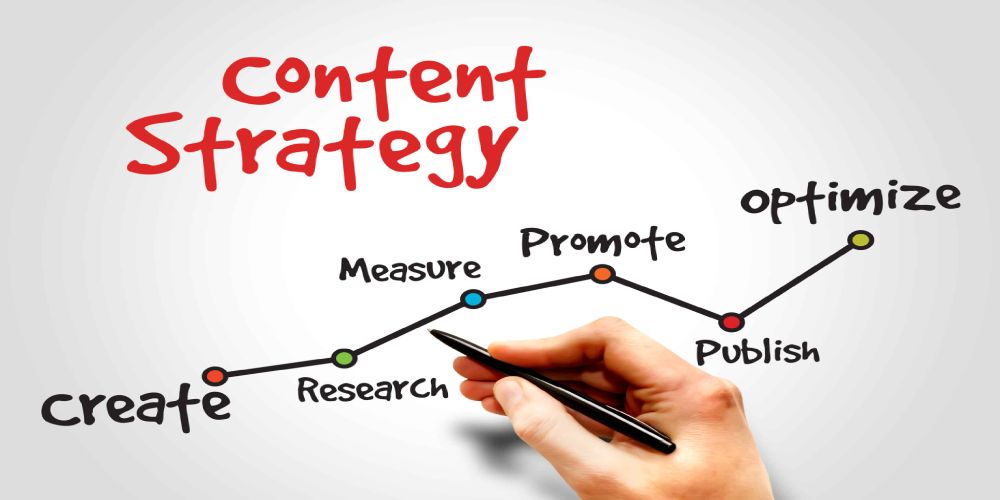 When you produce the content for your website with the goal of ranking highly in search engines, you are creating SEO content. When you use an SEO content strategy to promote your business, you concentrate on producing excellent, SEO optimized content so that people can find you online and, ultimately, develop a relationship with you.

The information you publish on your website and elsewhere that is seen by your target audience is essential to the success of your online business. When crawling your website, search engines will pay attention to well-written and structured SEO content writing. Your website may appear higher in search results pages as a result of content optimization. So, it's crucial for your organization that you provide the best SEO content possible.
How to write SEO-friendly content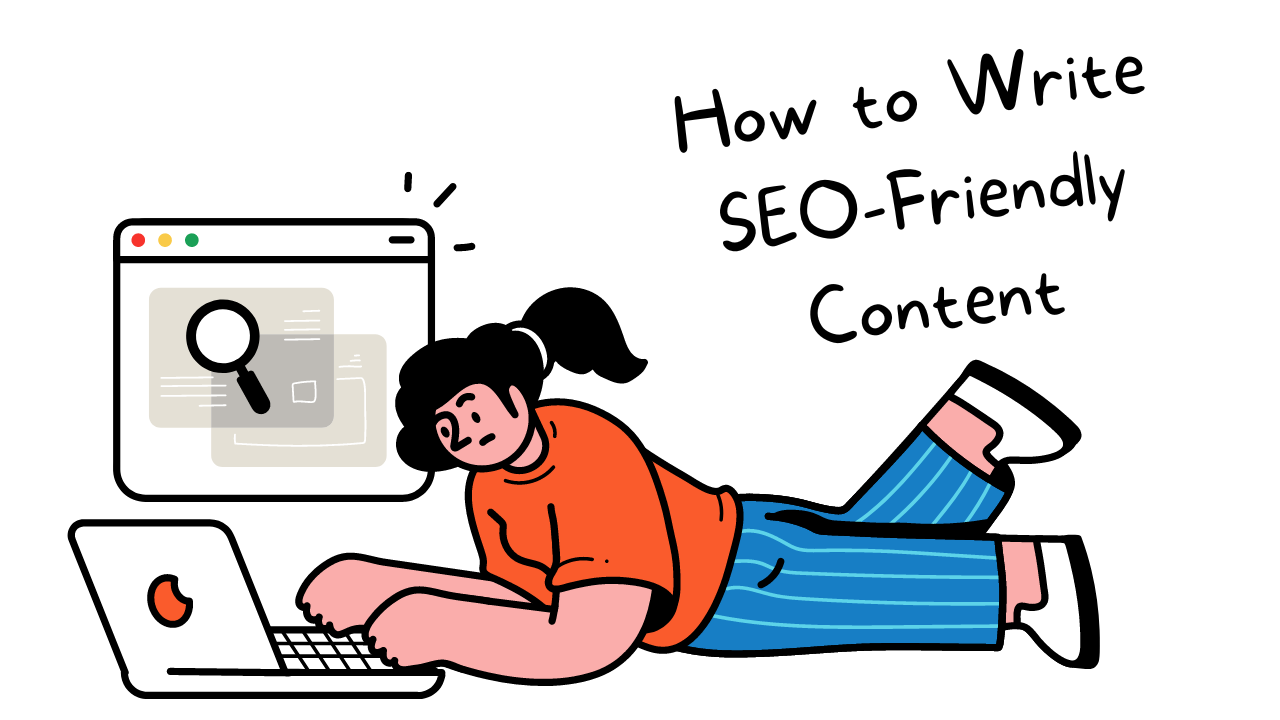 Knowing who you want to reach is the first step in producing the finest SEO friendly content. From there, you can go all out and offer the kind of material required to garner attention and, with the aid of higher rankings, reach your target audience.

While each business's content will have a different focus, there are certain traits or elements that you should always include.
Determine a focus keyword for your piece of content
Your
SEO content strategy
already includes keyword research to assist you determine the most popular search terms for your target audience. Choose one of those keywords to concentrate on and create a topic around it for each piece of content in order to make it SEO-friendly.
Make original content
Always start planning your content with a unique thought. You want to create SEO friendly web pages and supply readers with something fresh, new, and unique that isn't already available online or from a new perspective.
Make your chosen keyword stand out
Make sure your
chosen content writing keywords are prominently displayed in the piece of content for the optimum optimization.
Put another way, position it as substantially up in the content as you can without letting it sound forced. By doing this, you'll enhance the likelihood that Google will view your page as especially related to that phrase and rank you accordingly.
Provide extensive, long-form content.
Over and above what others will do, give searchers long-form content. When building a thorough resource, take into account all the material around the keyword and topic which will be useful to the reader and incorporate as many of it as you can.
Don't let your reader look further for the knowledge they require. By offering more, you position yourself as a reliable source and encourage visitors to remain on your website longer.
Make your content appealing to readers
Even while having
high-quality material is crucial for SEO
, if the content doesn't appeal to your audience, they won't stay to read it all. If you want users to spend as much time on your website as possible, you should write material that is simple to skim, divided into subheadings and headings, and more.
Here are some writing hints to keep readers interested.
Alternative sentence structures and lengths
Avoid using complicated words or sentences
Put pictures at important places
Select the most appropriate phrases and words for your target audience
Run a grammar and spelling check
Search engines are also going to interpret this as an indication that you are vying for a greater position in SERPs provided your
content in digital marketing
is simple for people to digest and keeps them on your page for longer.
Incorporate many sorts of multimedia
Add various forms of multimedia to your information, such as photographs, infographics, videos, charts, diagrams, or interactive elements, to improve the user experience. Make sure the quality of each form of multimedia matches that of the content.
What Elements Make Up an SEO Strategy?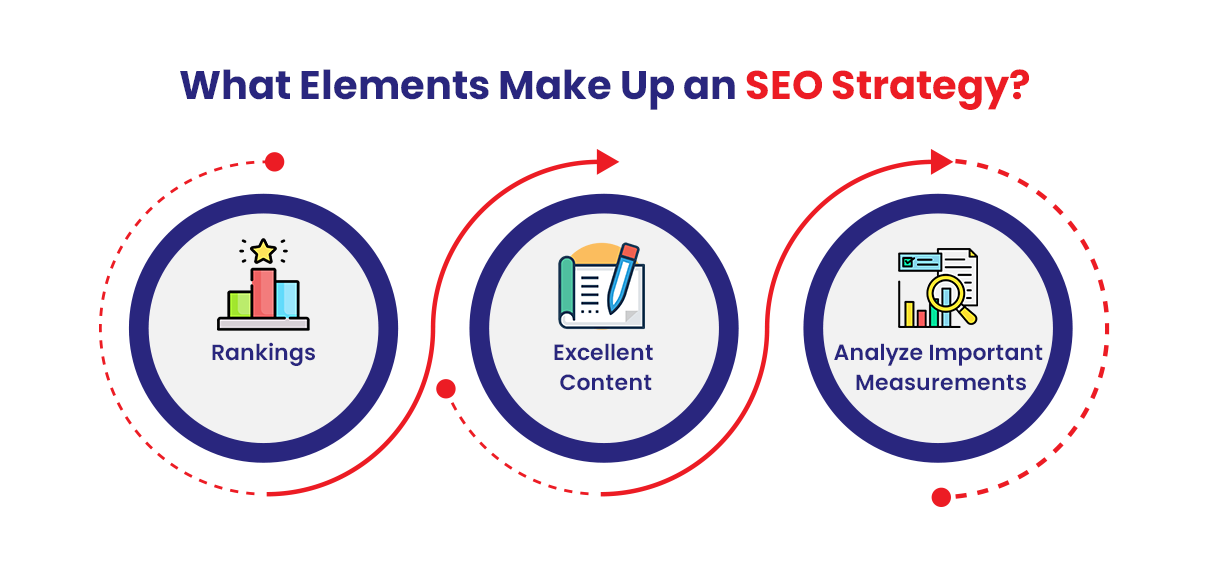 A thorough approach is needed for any SEO strategy, and that strategy must include three crucial elements. These crucial elements are:

Rankings
Although
Google's algorithms
could shift up to 600 times during a single year, they are ultimately designed to help customers by frequently exceeding their expectations.
This can help you produce content that adds value and offers your reader a satisfying reading experience, two essential elements in ranking higher.
Additionally,
Google claims that you may improve your ranks
by learning more regarding how its search engine indexes and crawls information and how layout matters. By performing the following, you can improve your probability of ranking higher:
Sitemap should be updated and submitted to Google Search Console.
More blog articles and high-quality content should be produced for indexing.
Put keywords in strategic places.
Include reputable external and internal linking.
Utilize the resources at your disposal, especially when it comes to content layout. Put your energy into coming up with the best header tags, meta descriptions, titles, and snippets, as well as short, straightforward URLs that accurately reflect the piece.
Making sure that your website is responsive to mobile devices, user-friendly, and quick to load are other variables that affect rankings.
Excellent Content
Your website and brand stand out from the competition thanks to the content and
content marketing services
. Therefore, producing original, high-quality content is essential. Search engines should pay special attention to this stage because they strive to give users the most comprehensive and convincing responses possible.
Make sure every stuff is original as well. Being unoriginal or spinning information will render you less well-liked by readers and search engines. You may also employ
measures to improve the quality of older content
by adding photographs or videos.
Analyze Important Measurements
It's crucial to
keep up with evolving SEO strategy best practices
because search engine algorithms change frequently. Establish KPIs and monitor them to determine where you are thriving and where improvements need to be made. Investigate significant data points including rankings, traffic, bounce rates, dwell times, click-through rates, and social engagement.
The Main Aspects of SEO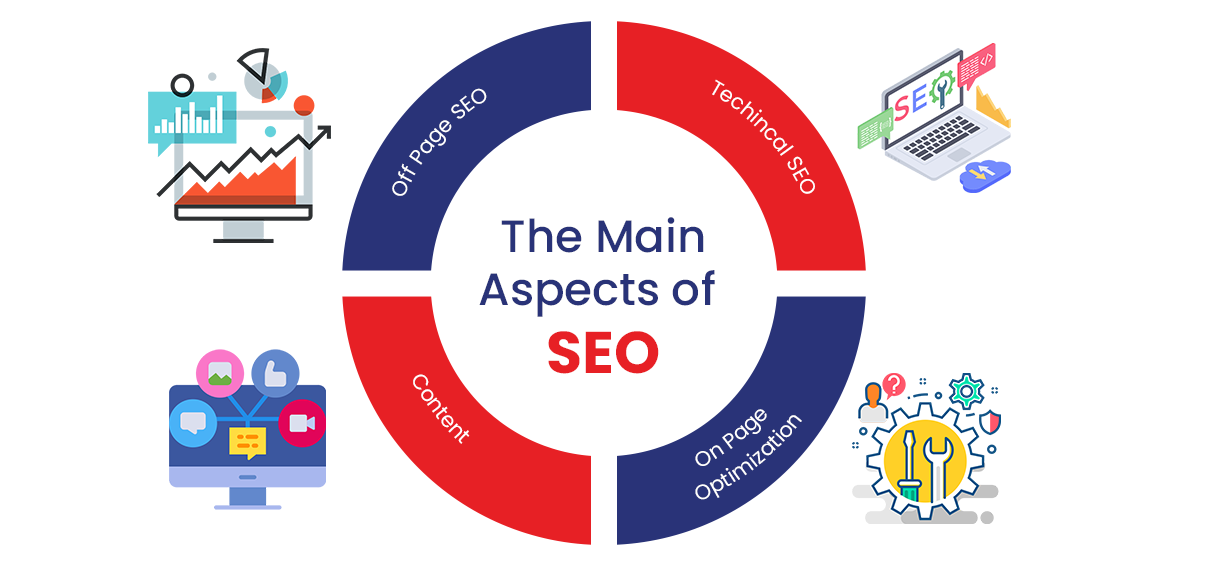 It is important to understand the four main types of SEO in order to improve your content strategy for SEO.
SEO Friendly Content
Content is a crucial component of your website's SEO plan, including
content marketing services in Mumbai. You want to implement SEO strategies while also offering the greatest, most appropriate answers to a searcher's question in all of your content, from blog articles to landing pages. The optimisation of all material produced for every stage of the buyer's journey is necessary.
On-Page SEO
On-page SEO has to do with the HTML and content of your website and how to optimize them to improve rankings.
You can
improve on-page optimization
by doing the following in addition to maintaining your website's content's organization and keyword optimisation:
Use concise, illustrative URLs.
Researching keywords to find your audience.
Meta descriptions being included.
Incorporating keywords into page headers and headings.
Adding powerful CTAs.
If appropriate, include local keyword phrases.
Off-Page SEO
Building authority through link building is the main goal of off-page SEO. Your website's authority with readers grows as a result of links from highly trustworthy websites, and search engine algorithms begin to trust you. Your planning may benefit from including a backlinking strategy to boost your optimisation efforts.
Technical SEO
The technical setup or backend design of your website is what search engines prioritize. Site code is one illustration in particular.
Pay particular attention to these things as the site's owner:
Crawlability
Indexability
optimisation for mobile
rapid website load times
hierarchy or organization of the content
Steps to Develop a Successful SEO Content Strategy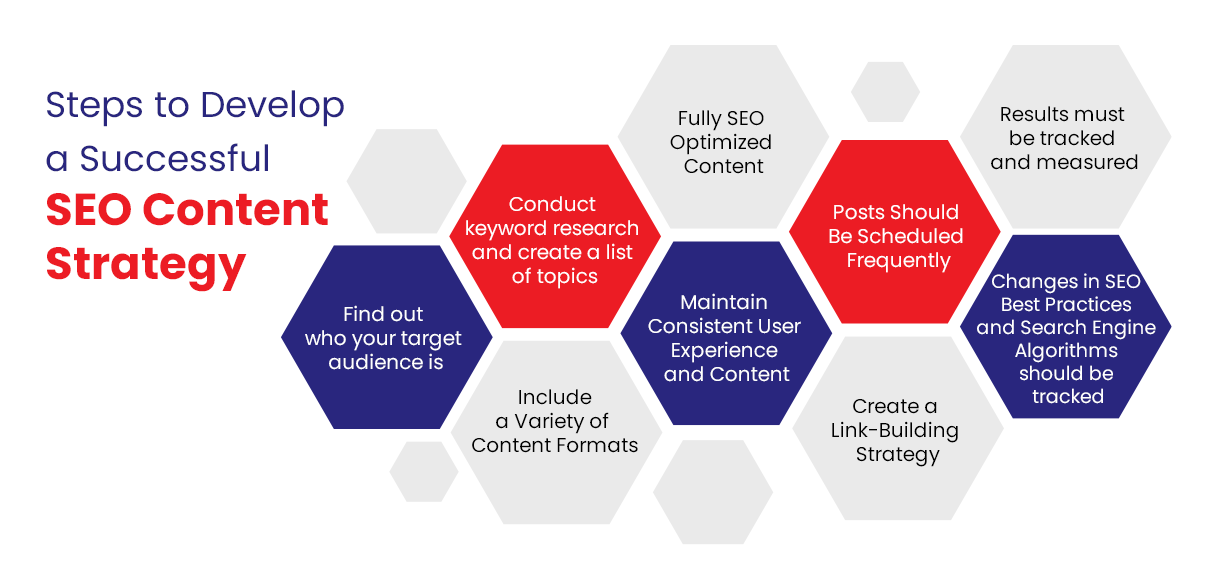 Here are the top 9 guidelines to follow by a content marketing agency in order to develop a content strategy for SEO that has a greater chance of success.
Find out who your target audience is
Finding your target audience and knowing their needs, wants, problems, and interests
is the first stage in developing any SEO content plan. Create buyer personas that act as the foundation for your strategy and iteratively improve them as you get additional audience knowledge.
Conduct keyword research and create a list of topics
Find the keywords that speak to the requirements of your target audience by conducting in-depth keyword research. Create a list of subjects for your content offerings and plan your content strategy around them.
Include a Variety of Content Formats
Consider including video in your SEO content plan if that format of content is currently trendy and converting at a greater rate.
Analyze the kind of material that your target viewers
interact with most frequently as well as where they spend their time so that your content in digital marketing becomes effective.
Fully SEO Optimized Content
Include optimization everywhere, including in the headings and meta descriptions of your content.
Make a reminder or checklist to make sure your team incorporates these optimisations wherever possible.
Posts Should Be Scheduled Frequently
Regularly and frequently post to your social media pages and release blogs. Be dependable. Make a content calendar for the team to aid with this.
Create a Link-Building Strategy
Plan how links will be incorporated into your content and website. Include both powerful links that are internal and external, and provide a mechanism to promote backlinking from extremely trustworthy websites and influencers.
Maintain Consistent User Experience and Content
Spend time making sure your material is updated plus the user experience is satisfying as your plan develops.
Results must be tracked and measured
Track and evaluate the results of your content creation and SEO efforts to see what has been successful and what needs improvement. Establish KPIs to measure your progress towards your brand's objectives.
Changes in SEO Best Practices and Search Engine Algorithms should be tracked
After developing an SEO content plan,
keep an eye out for adjustments to search engine algorithms
as well as SEO news and best practices. Along the process, make adjustments to fulfill these new requirements.
Conclusion
Focusing on producing the highest-quality, SEO-optimized website and content is essential for brand promotion employing a distinctive SEO content strategy. As a result, you can appear higher in search engine results, which will enable more people to find you and increase your conversion rate.

DiTech CDM specializes in developing thorough and customized SEO strategies that support your company's objectives. We can help you with engaging SEO content creation that resonates with your target audience thanks to our in-depth knowledge of SEO best practices and the constantly changing search engine algorithms. Take advantage of the relationship between SEO and content marketing and produce outstanding results.

For more information on our best content marketing services in Mumbai, contact us today!